Kingson shines in EPL debut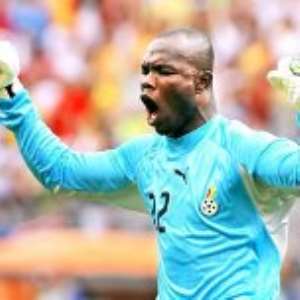 Kingson impressed on Saturday Ghana goalkeeper Richard Kingson made an impressive debut for English side Wigan despite conceding two goals in the game against West Brom.
His performance is a major boost for the Black Stars ahead of next month World Cup qualifiers and a direct answer to his critics who has complained about his match fitness.
 
The Black Stars shot-stopper was called into action in the 10 th minute of Saturday's game and even though they lost 3-1 he was among the highest rated players for the game.
 
Wigan were 1-0 down when goalkeeper Chris Kirkland's back injury resurfaced following a goal kick, allowing the Ghanaian to get a first league start and he did not disappoint.
 
Kingson replaced the injury-ravaged keeper and acquitted himself well despite conceding two goals, earning him 7 out of 10 in the Opta player rankings.
 
The Ghanaian made it a Premier League debut appearance to remember with a five-star performance between the posts, instantly producing a stunning save to prevent West Brom from extending their lead.
 
Scoring has not been easy for these two sides and Juan Carlos Menseguez demonstrated this failing when he did all the hard work including a dummy to set up the space, and his subsequent shot was smartly saved by Kingson.
 
Wigan drew level and Kingson kept pace with an acrobatic save from Jonathan Greening who showed a fine turn of pace to leave Melchiot in his wake.
 
West Brom took the lead in the 59th minute when Titus Bramble left a leg in against Fortune towards the edge of the penalty, and Brunt scored at the second attempt from the spot, after Kingson parried the initial blast.
 
Fortune's late drive deflected past Kingson, to seal the 3-1 win for West Brom.
 
Kingson had not played for Wigan in a competitive league game since joining the club after being released by Birmingham.
 
On the evidence of this performance Birmingham coach Alex McLeish must be ruing his decision to allow the Ghanaian keeper to leave.