West Ham chairman in £300m debt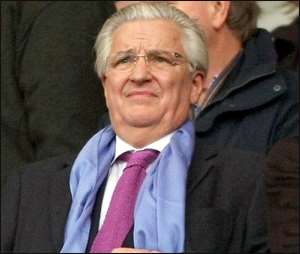 Bjorgolfur Gudmundsson The full extent of West Ham's financial strife has been uncovered after it was revealed the personal debt of chairman Bjorgolfur Gudmundsson stands at £300m.
Gudmundsson bought West Ham for £85m in November 2006 and has invested a further £30m in the club since then.
However, the 67-year-old's business has suffered a series of setbacks and his liabilities will increase pressure for West Ham to be sold in the summer.
"The situation is very bad," he told Icelandic newspaper Morgunbladid.
"I have everything on the line - personal liability extends to all of my assets.
"I'm left with the question, what is my position? I must admit that I'm a little lost. I just don't know what I will be able to keep."
A consortium of creditors led by Icelandic bank Straumur - which is itself in financial difficulties - are in talks about taking over West Ham.
However, control may end up in the hands of an asset management company appointed by the Icelandic government.
Whoever ends up in control, Gudmundsson's situation is so bad that his creditors are thought to be keen to cash in on one of his few remaining assets, meaning all that is needed is for someone to make a reasonable offer for the club. West Ham insiders, though, insist they are wholly confident of meeting the conditions required to receive a Uefa club licence - needed if they qualify for the European League - and will submit the necessary accounts to the Premier League and FA before the May 31 deadline.