Clottey prepares for Cotto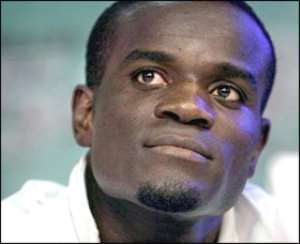 Joshua Clottey CURRENT INTERNATIONAL Boxing Federation (IBF) Welterweight Champion, Joshua Clottey has stepped up preparations at his base in Bronx, New York, for the June 13 unification bout with Peurto Rican Miguel Cotto.
According to reports, the Ghanaian boxer who has not fought since defeating Zab Judah last August, is in fine shape to battle the dreaded Cotto, a three-time champion who has lost only once in his career. Cotto lost to Antonio Magarito- the same boxer who defeated Clottey.
According to information reaching this paper, Cotto is risking his World Boxing Organization (WBO) welterweight title, to take on Joshua Clottey in a rumble to determine the true world welterweight champion at the Madison Square Gardens in the USA. "And this gives added impetus to my training," Clottey said.
"I have always wanted to fight Miguel Cotto. It's been a goal of mine for a long, long time. I can't believe the opportunity is finally here," said Clottey recently.
"A victory over Cotto will give me the break I have been searching for. My time has finally arrived."
Cotto on the other hand said Clottey is a defensive boxer and a tough fighter. "His record proves he belongs at the elite level of the welterweight division. But I will be ready to give everything I have against him and to do all that is necessary to defeat him.
On June 13th, the world will witness a great fight between Clottey and me. It's going to be a war inside the ring at The Garden."
Bob Arum, Chairman of Top Rank, promoters of the match, said this is the fight that fans have been waiting for. "What a night this will be."
Clottey enters this fight riding a two-year, five-bout winning streak which includes victories over Judah, former two-division world champion Diego Corrales, undefeated contender Shamone Alvarez and two-time world title challenger Felix Flores.
Cotto on the other hand is entering this fight after being stopped by Antonio Margarito via an 11th-round TKO.
By Charles Nixon Yeboah