Essien to end career at Chelsea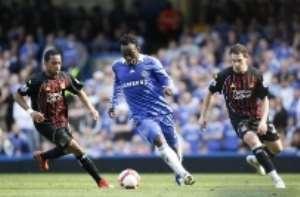 Essien want to end career at Chelsea Ghanaian midfielder Michael Essien has declared he wants to play out his career with English side Chelsea.
Essien has recently been the target of several clubs with some reports linking him to Inter Milan to join his former coach Jose Mourinho.
 
The midfielder, who signed a new four-year deal last summer, wants to finish his career at Chelsea.
 
He said: "At Chelsea, we're playing for the league title every year, the Champions League and the FA Cup and we have a chance of winning.
 
"Every week I play in front of capacity crowds and I live in London. Why change?"
 
Essien joined Chelsea from French club Lyon for Africa's record transfer fee of £24m.