'We Can't Ban Kotoko CEO'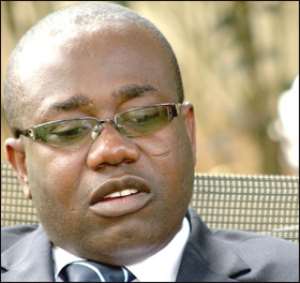 Kwasi Nyantekyi (GFA Chairman) Kwesi Nyantakyi, GFA President, says his outfit cannot go ahead and implement the Government White Paper which recommends the banning of Sylvester Asare Owusu, Chief Executive Officer of Kumasi Asante Kotoko, from having anything to do with sports for five years.
According to him, the football controlling body would have to study the report of the Philip John Bebley Committee appointed by the Minister of Sports, Alhaji Muntaka Mubarak, to investigate the death of four football fans during a league match between Kotoko and Hearts, before taking any step in that direction.
He explained that "we have forwarded the report to our lawyers to study and make recommendations. Until we receive a go-ahead to impose the sanction on Mr. Owusu, we cannot do so".
He denied that the sector minister was interfering with the GFA's work, noting that they were presently executing their work freely.
It would be recalled that media reports were rife last week that FIFA had demanded a report from the GFA of whether the government was interfering in their job, a situation which could have led to the ban of Ghana from all FIFA competitions if it was found to be true.
The President said the GFA in 2005 revised its statutes and embraced a new dispensation under which government control and direct involvement in the management of football was substantially curtailed.
"Following legislative reforms undertaken by the FA in 2005, clear boundaries were drawn within which the FA is expected to collaborate with Government, with FIFA hesitant in giving government a direct involvement in the management."
He said Article 70 of the GFA's statutes provides a public interest committee which is expected to cater for the interest of the Public and Government.
This Article, according to the FA president, gives government two slots on the five-member committees of the various national teams and three for the GFA.
By Charles Nixon Yeboah