Torres wants Champions League glory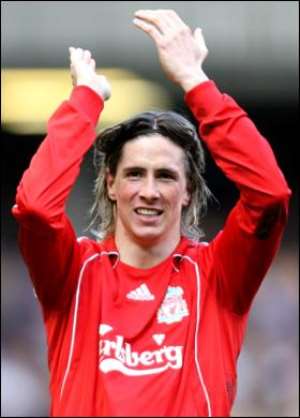 Fernando Torres
Fernando Torres has revealed that he would rather win the Champions League than the Premier League this term to add to Liverpool's impressive European heritage.
The Spanish striker knows that the Premier League title is an ambition of many at the club, but he wants continental success after winning the European Championships with Spain last summer.
Liverpool face Chelsea in the Champions League in midweek after maintaining the pressure on Manchester United in the title race at the weekend.
"Domestic titles are very important but to win the Champions League you are saying we are the best team in Europe," he told Liverpool's offical website.
"This club has a great record in the European Cup but now I want to be a part of that history.
"Winning the European Championship was a great thing for me and I understood what it was to win a major trophy and what I had been missing.
"On the way home from the European Championship I made a promise that I wanted more of this success with Liverpool and it does not come any bigger than the European Cup."
Torres is delighted that Steven Gerrard has signed a new deal at Liverpool and believes that the credit that he is being given this season is thoroughly deserved.
"Stevie has been getting a lot of praise from some of the best players in the world," he continued.

"That is quite right because I think he is the best in the world. He is a great team player but he can also win a game on his own when maybe we are not playing so well.
"I would love to see him have a lot more success. I cannot think of a player I would rather be playing with.
"We know it is not going to be easy against Chelsea on Wednesday but both Stevie and I are happy with our form."