Muntari denies Ghana exit claims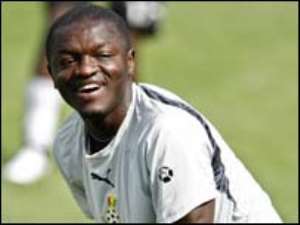 Muntari says he is going absolutely nowhere Ghana international midfielder Sulley Muntari has moved quickly to dismiss claims that he wants to quit the national team.
Reports on Tuesday suggested that one of the key Black Stars was on the verge of walking away from the national team due to personal problems that include the police.
 
However, the Italy-based midfield enforcer has been quick to deny such suggestions.
 
"I can assure the people of Ghana, the Ghana Football Association and all football fans in Africa and across the globe that I am going absolutely nowhere," the Inter Milan player told Ghanasoccernet.com.
 
"I have not made any such threat and will never make such a useless threat.
 
"I have consistently said that my country is my first love and I will forever be committed to the Black Stars and development of football in my country.
 
"Ghana has given me so much and I have privately and publicly shown my appreciation to the people and will forever do so.
"The story has no basis in fact, it's an unbelievable load of rubbish, complete make believe and I urge Ghanaians to disregard it," Muntari added.
 
Muntari says fans of the national team must not allow such rumours to derail the Black Stars plans of qualifying for the 2010 World Cup in South Africa.
 
"We have the ultimate ambition of reaching the 2010 World Cup in South Africa and there are some who want to scupper those plans by sowing seeds of discord," the midfielder said.
 
"I want to assure Ghanaians that my colleagues and I are firmly focused on taking Ghana to the World Cup and will not allows these minor distractions to take our eyes off the ball."
 
"I am focused and I will do my best along with my colleagues to send the Black Stars to the World Cup in South Africa."
 
Reports from Kumasi after Sunday's World Cup qualifier against Benin had suggested that Muntari made the exit threat after his girlfriend claimed she was assaulted by a policeman.
 
The midfielder was said to have demanded an apology from the Ghana Police Service as well as the Ghana Football Association before he would continue playing for the Black Stars.