Appiah happy to 'do a job'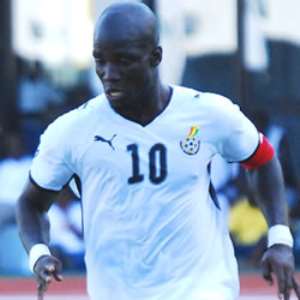 Stephen Appiah has insisted he is happy to 'do a job' for Ghana after leading the Black Stars to an opening win in the joint 2010 African Nations Cup and World Cup qualifying.
The Black Stars beat Benin 1-0 at the Baba Yara Sports Stadium in Kumasi on Sunday as the start of the campaign for a place at the World Cup in 2010 got underway with the Ghana captain playing some 68 minutes before his substitution.
After an early lead, just under a minute, Ghana failed to find the back of the net again as the game travelled for some 92 minutes. But the Black Stars captain maintains winning was the most important result.
"Ofcourse we didn't underrate Benin. We knew it was going to be a difficult game the most important thing was we had the three points."
Appiah who continues to play a key role in the senior team amid concerns over his club future says serving the team overrides every other individual thing.
"I was OK. Even though I was playing out of position but I had to do a job. I enjoyed the game.
"It was fantastic. I am happy to be here again and we all love it when playing for Ghana," an elated Appiah said in a post-game interview.
Ghana's team for the opening game featured eight players who featured in the 2006 World Cup hosted by Germany as new players come in.
Appiah, one of the eight says the bonding between members of the squad has been key to their success and is happy with their common sense of purpose.
"When it comes to the Black Stars, we are a very united front and there are no differences.
"We bond well whether local or foreign. We are all ready to play and that is what we will always do for our country."