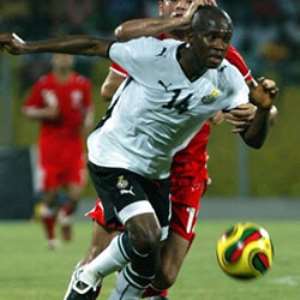 Ghana head coach Milovan Rajevac insists he is happy with the number of striking options available as he prepares the Black Stars for Sunday's game against Benin.
The striking department of the senior national team has most often come under scrutiny with some insisting that the Black Stars lack the firepower upfront to finish off opponents.
Ahead of the crucial opening game of the joint 2010 African Nations Cup and World Cup qualifiers, the Black Stars coach admits he is more than satisfied with the resources available and believes the team has what it takes to find target.
It is not the first time that Ghana has had such an array of striking options but Rajevac has been speaking very highly of the diverse qualities his font men - Prince Tagoe, Asamoah Gyan, Matthew Amoah and Samuel Yeboah - present.
"For me, they are all good options and it presents me with a little bit of headache when picking my starting team. They all bring different things to the team.
"The most important thing is that Gyan is coming back. He (Gyan) hasn't played in the team since I arrived. He has quality, very skilful and can score too.
"We have found some good solutions in attack. Prince Tagoe is okay, Sam (Yeboah) is a very good striker and doing well. Amoah is a fine scorer," Rajevac told www.ghanafa.org.
With different options available, Rajevac says the fight for starting places has been keener and welcomes such healthy competitions.
"They are doing very well and are fighting for two positions. Everyone of them is capable of starting and whoever gets a starting place would do a good job for the team and for Ghana.
"We have two complete teams to pick from which is really good for a coach. And we have had a week to prepare just like the game against Lesotho in Sekondi.
"Lesotho is not strong like Benin. But that was a motivation for winning and I hope we do same on Sunday in Kumasi."