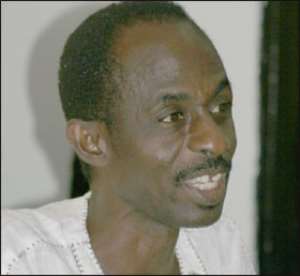 Asiedu Nketia, NDC Gen. Secretary THE ASHANTI regional secretary of the ruling National Democratic Congress (NDC), Mr. Doe Yao Tamakloe, has assumed office as the new regional coordinator of the National Disaster Management Organization (NADMO).
This follows the slamming of the 'proceed on leave policy' which has become a popular modus operandi of the ruling party on the incumbent regional coordinator, Mr. Antwi Boasiako.
Reports reaching DAILY GUIDE indicates that Mr. Kofi Portuphy, national coordinator of NADMO, about a week ago instructed Mr. Boasiako to proceed on leave whilst appointing Mr. Tamakloe to replace him.
Mr. Portuphy, it would be recalled, was appointed the new national NADMO coordinator when the then incumbent boss, DCOP (rtd) Akrofi Assiedu was kicked out of office under bizarre circumstances.
The now Foreign Affairs minister, Alhaji Mohammed Mumuni, even though did not have the legal right, ordered the dismissal of DCOP (rtd) Assiedu when he took charge as the caretaker minister of Interior.
The paper gathered that the move was a nice way of dismissing Mr. Boasiako because there is no way that he will come back to reoccupy his position.
When contacted on phone on Wednesday afternoon, Mr. Boasiako, who is currently cruising at home, confirmed that he had been asked to proceed on leave but declined to make further comments.
His resolve not to make further comments on the issue came as no surprise because information available to DAILY GUIDE indicated that he has been warned him sternly not to talk to the press about the issue.
Announcing his presence as the new regional boss of NADMO, Mr. Tamakloe, who is still the regional secretary of NDC, released a statement on Friday March 20, cautioning people not to rush to accident scenes especially when fuel and gas tankers are involved.
As if NADMO has taken over the job of the Motor Traffic and Transport Union (MTTU) of the Ghana Police Service, he enjoined residents in the region to report any driver misconduct they may come across to the NADMO office for attention.
Sources told the paper that more heads and directors of state departments and organizations in the region would soon taste Mr. Boasiako's ill-treatment as they have been lined up to proceed on leave to be replaced by NDC activists.
Heads and directors in the region to be affected, in the not-too-distant future according to reports, are those perceived to be sympathizers of opposition New Patriotic Party (NPP).
Meanwhile, insiders say the struggle for positions has reached crescendo with some executives of the party in the region who are mad to secure positions as reward for their hard work that brought the party to power, are employing every means to outwit each other.
Apart from back biting each other to win favour, some are said to be consulting deities and oracles to better their chances of being picked for the remaining positions that are yet to be filled.
From Morgan Owusu, Kumasi