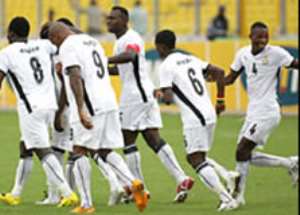 Hundreds of football fans thronged the Kumasi Airport to welcome the Black Stars to the Garden City Thursday morning where they play the Squirrels of Benin on Sunday in their bid for a second successive World Cup finals appearance.
The national team touched down at 11:15am and the fans, including school children followed them through the streets to the Golden Tulip Stadium where they will base till the match.
The Black Stars who had been training in Accra, were expected to have their first training in Kumasi at 4pm. The team plans three training sessions in Kumasi and according to officials, all the sessions would be at 4pm. The match on Sunday kicks off at 5pm.
Goal keeper George Owu has earned a late call-up ostensibly to replace an unfit Richard Kingston.