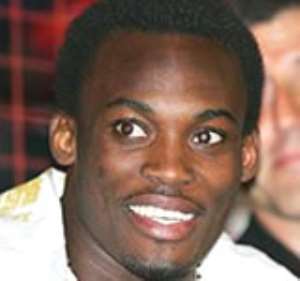 Midfielder Michael Essien feels more pressure playing for 2010 World Cup contenders Ghana than English Premiership title challengers Chelsea.
The 2008 African Footballer of the Year finalist revealed his thoughts in a Chelsea TV interview ahead of a World Cup qualifier against Benin on Sunday in the central city of Kumasi.
'There is more pressure playing for Ghana than Chelsea. There is no doubt about that,' admitted the star who helped Ghana reach the World Cup for the first time four years ago.
The 'Black Stars' were the only one of five African qualifiers to make the knockout phase at the 2006 finals in Germany and lost 3-0 to defending champions Brazil after having a player sent off.
"Ghanaians love football so much that when we do not win we get ourselves into trouble, but I am always happy to serve my country in a sport that opened so many doors for me," confessed Essien.
"It is difficult to describe the pride one feels when putting on the national jersey because Ghana has so many footballers and I am among the few who have been chosen.
"This makes me want to die when I play for Ghana because it is a cause worth fighting for. It is the only way I can pay my country back for giving me the opportunity to represent them."
Essien recently returned to action after a lengthy layoff recovering from a knee injury sustained during a World Cup qualifier against Libya in Tripoli last September.
Ghana assistant coach Kwesi Appiah said the sooner-than-expected return of Essien was a 'gift from God' and coach Milovan Rajevac was clearly referring to his midfield enforcer when he spoke of a 'special' player.
"All Ghanaians will thank God that one of the best footballers in the world has returned to our fold. This is something we have been praying for," said Appiah.
"He is one player Ghana needs - most especially our technical team - as we prepare to launch the final phase of our qualifying campaign for the 2010 World Cup.
"Michael can turn things round when they are really difficult on the pitch and his presence in our squad will boost the morale of the players, technical team and supporters."
Sudan and Mali complete Group D with the winners of the six-round mini-league qualifying for the World Cup in South Africa while the top three go to the African Nations Cup in Angola earlier the same year.
Credit: ghanasoccernet