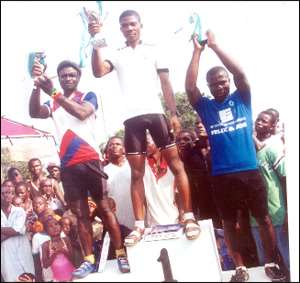 Winners of the December edition The 2nd edition of the quarterly Peace Riding Motorcycle Race will take place this Sunday March 29, 2009 at Prampram in the Greater Accra region.
According to Hassan Musah, Manager of the H.M. Motorcycling Club, organizers of the event, the race will start at Prampram, taking the riders through Dawenya, Tsopoli, Ningo and back at Prampram.
He disclosed that the first edition of the motorcycle race was held on December 21, 2008 and won by Nuru Paddie.
Mr Musah urged members of the H.M. Motorcycling Club as well as other riders to take active part in the event, in order to make it a success.  
From The Sports Desk