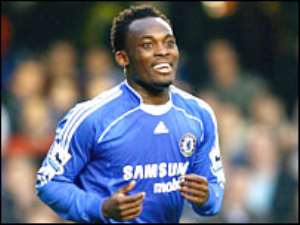 Essien has lauched a website Ghana international midfielder Michael Essien has launched his official website to communicate with his fans.
The Chelsea player unveiled www.michaelessiengh.com http://www.michaelessiengh.com/ in his home country on Wednesday to enable his fans across the world to know more about him.
 
Essien says he received encouraging several messages from the fans during his six month injury-induced absence and way to open more communicating channels.
 
"When I was out with injury the most encouraging words came from fans from all the over world," Essien told Ghanasoccernet.
 
"I want the fans to know first hand information about me directly from me.
 
"It is an important modern communication avenue and I will use it effectively."
 
Essien will write his weekly blog on the website while his team multi media team will also be updating the site with latest news from the world of football.
 
The website will also be updated with exclusive private pictures and videos of the Chelsea star.
For more Ghana football news visit www.ghanasoccernet.com