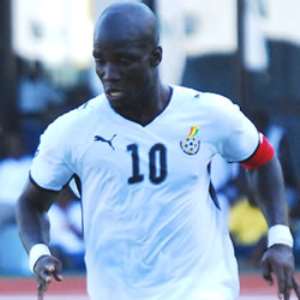 Ghana coach Milovan Rajevac has labelled Stephen Appiah as one of the refreshing characters that his team functions around as the Black Stars prepare for the weekend's World Cup qualifier at home.
Appiah, who is unattached to any club, was named by Rajevac's in his 22-man list for the 2010 World Cup qualifier against Benin on Sunday with the Serbian hailing the former Fenerbahce man's mentality.
Appiah, 28, has been a consistent performer since returning in September 2008 for Ghana and has lived up to the daunting task of leading the Black Stars, according to Milovan Rajevac.
"Stephen (Appiah) is a big name. He is very important and his presence means a lot to the team," the Ghana coach said when asked about the influence Appiah has on the Black Stars.
"In each game he has played, he was one of the best although he doesn't play regularly for any club. He makes the difference.
"As far as he is playing and performing, he would remain part of my team. In all the games that he has played under me (Rajevac), he hasn't played any bad in each game.
"Appiah has a strong character both on and off the field. When he is playing, you can expect a good assist and he can score.
"He is the master and you can always expect something good," Rajevac told www.ghanafa.org.
Despite the captain being clubless and presently training with Italian side Brescia, Rajevac has remains a firm believer in the midfielder's qualities and says Appiah can lead Ghana to another World Cup place.
The player's physical condition has been played up by a section of the media insisting that he does not warrant a place in the Black Stars but the coach says the captain has continuously justified the faith he has in calling him.
"In the past games, his runs were satisfying. Mentally, Appiah is good. And remember is he good technically.
"You can't find so many players with his abilities. One of the most important things about his presence is that he inspires the team."
The Black Stars will play the Squirrels of Benin on Sunday in the first Group D game as the joint qualifiers for the 2010 African Nations Cup and World Cup begin on the continent this weekend.