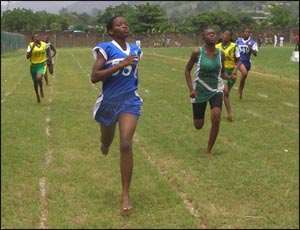 Athletics ONE RECORD was broken at this year's Eastern Regional Second Cycle Schools' Zonal Athletics competition in the New Juaben Municipality in the boys' triple jump competition while an unassuming third-year student from New Juaben Senior High Commercial School (NJUASCO) ran a smashing 100m and 200m races to emerge the best lady athlete in the two-day competition.
Emmanuel Nteh Ababio, a third-year student of Koforidua Senior High Technical School (Sectech) broke his own record of 13.25m, which he set last year with a jump of 13.30m this year.
He also won the long jump event in the boys division to emerge the overall best male athlete.
Dorcas Djangmah, also a third-year student from NJUASCO, beat Jannette Ayerh from Koforidua Senior High School (KOSEC) and Patience Donkor from Ghana Senior High School (GHANASS) to second and third places respectively in both 100m and 200m races to collect gold in the two interesting races.
She also won the high jump in the ladies' division to emerge the overall best lady athlete.
Most of the records set in the various sports events in the girls' division stand in the name of athletes from NJUASCO.
It must be said that female athletes from GHANASS who looked smaller in stature also distinguished themselves so well in most of the races, running a fantastic 4x400 race to win gold.
Eleven senior high schools were supposed to have taken part in the two-day competition but Oyoko Methodist Senior High School embarrassingly failed to present a team for the competition because the school did not hold an inter-house competition to get a team to represent it.
Announcers at the event continually mocked the school which was supposed to be a 'model' school in the municipality.
At the end of the two-day event, Koforidua SECTECH emerged the overall winners in the boys' division with 115 and half points, followed by GHANASS with 106 and half points and then POJOSS came third with 72 points.
NJUASCO placed fourth with 69 points, Pentecost Senior High (Pensec) was fifth with 53 points, KOSEC sixth with 39 points while Koforidua Technical Institute (KOTECH) came seventh with 36 points.
The eighth school was New Juaben College of Commerce (NJUACOCO) with 17 points while Seventh-Day Adventist Senior High School (SEDASS) came last with a paltry 9 points.
In the girls' division, NJUASCO topped with 123 points followed by GHANASS with 113 and half points. The third position went to KOSEC with 83 points followed by PENSEC with 55 points while SEDASS placed fifth with 31 points followed by the ladies from SECTECH with 30 and half points.
The seventh position went to NJUACOCO with 25 points while the newest SHS in the municipality, KINGSBY Methodist Girls' Senior High School (KIMGHIS) came last with 12 points.
Closing the competition, the headmistress of KOSEC, Mrs Matilda Appiah who is also the vice-chairman of New Juaben Second Cycle Schools Sports Association asked all the schools to take sports seriously since the area could also produce talented students who otherwise might not be good in the classroom.
From Thomas Fosu Jnr, Koforidua