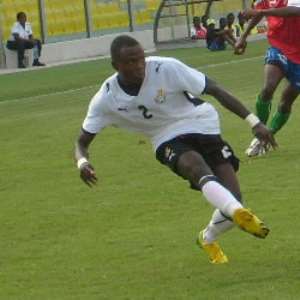 Milovan Rajevac has hailed the performances of Ghana defender, Samuel Inkoom but says the young right-back needs really time to develop.
Inkoom who turns 20 later this year has consistently impressed since attacking the down the flanks from defence for Asante Kotoko in the domestic league after joining the Kumasi-based side in 2008.
And the youngster continues to deliver high performances for the national sides after holding down regular starting places in the national Under-20 side that won gold at the African Youth Championship early this year and also for the local Black Stars that claimed silver at the maiden African Nations Championship.
His immense qualities according to local reports attracted interest from Paris Saint Germain and Swiss side, Basel but also most importantly earned him a place in the Caf All-Star team for the CHAN. But Rajevac is not surprised with the rise in the defender's career.
"He is a very pleasant surprise," Ghana coach, Milovan Rajevac said in an interview with www.ghanafa.org.
"Inkoom fits very well into team plans. He is improving everyday. Not many have this chance but he is making the best out of it."
"He definitely has lots of space to improve and lift his career. But he shouldn't be rushed. He is still developing and needs time."
Inkoom has produced runs down the flanks showing his attacking instincts but Rajevac believes the defender still has to improve his defensive abilities.
"You always know he is threat down the flank when moving forward. But he has to improve his defensive assignments and also add something to the final ball. He can improve his finishing."
"I remember watching him during a game against Nigeria in the CHAN qualifiers. He plays matured football. He is different and a big potential for Ghana. But he is not the only one, there are several of his kind out there."
For Samuel Inkoom who also goes by the nickname 'Eboue' after Arsenal and Ivorian defender Emmanuel Eboue, he is bent on improving his defending duties having already received some good advice from the Gunner during the 2008 African Cup of Nations hosted by Ghana.
Inkoom watched the Ivorian team based in Sekondi in the Western part of Ghana and was introduced to the Ivorian defender.
"I was introduced to him as the Ghanaian Eboue - at first he was amazed but then he was proud to know I admire him so much," Inkoom said. "Then he gave me a lot of good advice."
"He said that to become a good lateral defender I needed to work hard, train at the beach to improve my speed and avoid alcoholism. He also strongly urged me to be careful of women."