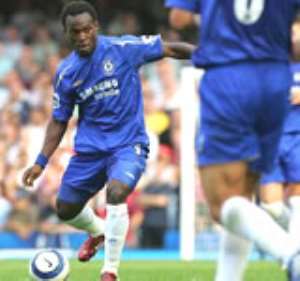 Chelsea captain John Terry has labeled Ghana midfielder Michael Essien an absolute machine after his fine return to form following a long injury lay-off.
Essien scored two important goals in a four-day span to keep Chelsea's hopes alive in both the Champions League and Premiership after a six-month layout.

But aside the goals, Essien has looked in good form since his return and won the admiration of John Terry in the process.

"Only Michael could do that", Terry told Chelsea's official website after Essien's goal gave them three points against Manchester City.
"Only he could come back and after two games have scored two goals and play as well as he has been."

"After so long out you think it would take three or four games to find his feet but he is an absolute machine. You see him working his socks off for six months in the gym and it pays dividends. He is brilliant and is great to have him back."

Essien's return is not only causing excitement in the dressing rooms. Back in Ghana, every move since his return from injury has been closely monitored by the media who are hailing the return of the midfielder as a major boost for Ghana's 2010 World Cup qualifying hopes.