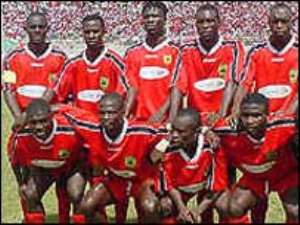 Kumasi Asante Kotoko on Sunday beat visiting Ittihad Z Khemisset of Morocco 3-1 in the first round of the 13th edition of MTN/CAF Champions League played at the Sekondi Sports Stadium at Essipong.
The visitors were on top of proceedings for over five minutes after kick off before Kotoko warmed their way into the game to turn the tables in their favour.
While the visitors fought back confidently Kotoko also stepped up their attacking machinery, putting the visitors in a tight corner and in the ninth minute while Khemisset were struggling to get out of the quagmire, Jordan Opoku put Kotoko in the lead when he converted a pass into the net from the goal area.
After conceding the early goal, the Khemisset lads organised themselves and tried to level the scores but it was not until the 34th minute when Hichamel El Fathl was able to get equaliser for his side.
Both sides played tactfully with determination until the end of the first half.
Kotoko, back from the recess launched a series of concerted attacks against the visitors thus paving the way for Stephen Oduro to score the second goal for Fabulous lads in the 50th.
The 'Porcupine Warriors' continued to subject the visitors to systematic attacks from then on but the visitors played gamely to keep their heads above the water.
While Kotoko were in the thick of the game, Jordan Opoku sealed the doom of the visitors with a third goal in the 85th minute for his side to cushion them for the second leg in Morocco.