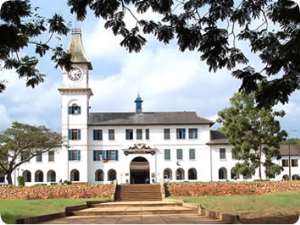 Anglogold Ashanti has constructed a basketball courts complex for Achimota School in Accra with the Vice President of the company, Mr Christian Rampa-Lubembwe stressing the commitment of the company to continue to offer assistance to communities in which it operates.
He said Anglogold Ashanti as a corporate body, has provided potable water, educational facilities and launched an anti malaria campaign in the communities.
Mr Rampa-Lubembwe said these at the commissioning of the Basketball courts at the Achimota School in Accra on Saturday.
The project, which was initiated by Dr Kwame Addo-Kufuor, former Minister for Defence was financed by the company as part of its social responsibilities.
The courts are equipped with modern facilities including an electronic score board and a changing room.
Mr Rampa-Lubembwe said the company would also support Tertiary Institutions to upgrade their facilities such as libraries, assembly halls and dormitory blocks.
He appealed to the school authorities to make good use of the facility and maintain it to produce basketball sporting talents and for the use of the future generation.
Dr Addo-Kufuor, a product of the school regretted that even though the institution had provided prominent citizens with the requisite upbringing and knowledge including some heads of state, it still lacks modern facilities to facilities academic work.
He appealed to corporate bodies and institutions to support the infrastructural development of the School.
The basketball courts complex has been named after the company.
The commissioning of the basketball complex forms part of activities marking the Founder's Day celebration of the School which was organized by the 1959 Year Group.
GNA