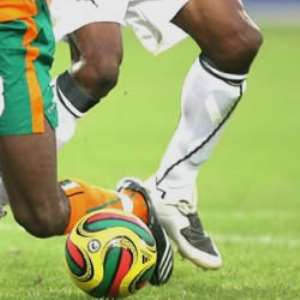 Clubs in Zone 3B will finally get their league campaign underway in the Polytank Division One League this weekend as second tier of the Ghana league enters match-day-3 in other zones.
But as Zone 3B gets their season off, it's business as usual for the rest as the season continues to produce mixed results.
The results been churn out so far suggest home form is key but as they season gathers pace some clubs might pick important points away from home.
Find below the weekend's match pairings:
Zone 1-A Fixtures
14-Mar-2009 UNIVERSAL STARS v UPPER STARS
14-Mar-2009 JUVENTUS v SOCCER WARRIORS
15-Mar-2009 CATHOLIC STARS v UNITY F.C.
15-Mar-2009 SAVANA STARS v GUAN UTD.
Zone 1-B Fixtures
14-Mar-2009 BOFOAKWA v BECHEM F.C.
14-Mar-2009 BERLIN F.C. v ADUANA STARS
15-Mar-2009 KINTAMPO UTD. v MOONLIGHT F.C.
15-Mar-2009 ROVERS v B. A. UTD
Zone 2-A Fixtures
4-Mar-2009 CORNERS v NORCHIP
15-Mar-2009 MINESTARS v KAASEMAN
15-Mar-2009 GOLD STARS v NEW EDUBIASE F.C
15-Mar-2009 SAMARTEX v WESTHAM
Zone 2-B Fixtures
14-Mar-2009 METRO v DWARFS
15-Mar-2009 FEYENOORD v WESTLANDES
15-Mar-2009 COCONUT GROVE v TARKWA
15-Mar-2009 WINDY PROF v STARKE F.C.
Zone 3-A Fixtures
14-Mar-2009 FAIRPOINT v MIDTJILAND
14-Mar-2009 SEVEN UTD v PUREJOY
15-Mar-2009 INTER-ALLIES v GT. MARINERS
15-Mar-2009 MIGHTY JETS v SPORTIVE
15-Mar-2009 SOCCER LEARNERS v NANIA F.C.
Zone 3-B Fixtures
14-Mar-2009 ALL STARS v BRIGHT FUTURE
14-Mar-2009 ZAYTUNA v OKWAWU
15-Mar-2009 KING SOLOMON v VOLTA R. CHAMPS
15-Mar-2009 MAXBEES v POWER
15-Mar-2009 OLYMPICS v ROYAL KNIGHTS