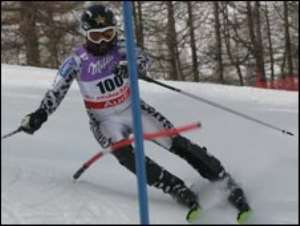 Ghana's first professional skier, who honed his skills on an artificial slope in the UK, has qualified to compete in next year's Winter Olympics.
Kwame Nkrumah-Acheampong was born in the Scottish city of Glasgow but he grew up in Ghana's snowless capital, Accra.
But through a mix of perseverance and good fortune, the "snow leopard", as he likes to be referred to, is now so good he'll be the one-man Ghanaian ski team in Vancouver's Winter Olympics in 2010.
So how does he rate his chances?
"Very far," he says with a laugh in his voice.
"My [hope] is to ski very well and prove to people that I deserve to be on the hill, with the other top world class athletes."
So how did someone from Ghana, a country renowned for its tropical climate not ski-slopes or powder-soft snow, come to set himself such an ambitious goal?
Unlikely start
Nkrumah-Acheampong first learnt to ski on artificial slopes in the UK just four years ago after he returned to the country to study.
It was snowing as he landed at London's Heathrow Airport - perhaps an early good omen of what was to come.

" I think now I can stand up and say it's possible "

Kwame Nkrumah-Acheampong
Nkrumah-Acheampong took up the sport after getting a job as a receptionist at a skiing centre in Milton Keynes where he had free access to the artificial slope.
"It's an extreme sport and I've always liked challenges and it was more difficult than the traditional sports I was used to," he told the BBC World Service.
From there he says, it was a natural progression to the slopes of a real mountain.
"I just wanted to see if I could actually cut it on the real thing," he explains.
He describes his first time out on real snow as "terrifying", but he persisted and with the help of his coach Dave Jacobs, has more than managed to conquer his fears.
"My coach told me just to avoid any embarrassment. I shouldn't try to turn, I should just go straight down, so that's what I did, straight down," he says, describing his first downhill run.
Even though he was ridiculed when he first took to the slopes, Nkrumah-Acheampong's passion and perseverance have taken him far.
Qualifying
To qualify for the Olympic Games, skiers need to get their personal rating down to between 120-140 World Ski Federation points.
These are worked out after each competitive race - the nearer a skier finishes to the winner, the more points are deducted from their score.
Nkrumah-Acheampong started out with a rating of 1,000 and has steadily brought his tally down.
He finally made it below the magical 140 point barrier after skiing in the Italian Alps this winter.
His place in next year's Winter Olympics is now guaranteed.
"It has taken me about four years, because I missed the [2006 Winter Olympics in Turin]... so its been a tough journey but I'm glad all the hard work has paid off."
Nkrumah-Acheampong has had a lot of support throughout his relatively short career from his family and from his community back home.
But he admits he did come up against some scepticism from people when he first announced his ambition.
The idea of a black man from Africa on the ski slopes was too much of a novelty for some.
But he has remained focused on his goal throughout.
"Some people where sceptical, others just did not believe that it was possible to train in such a short period of time and try and qualify, but I think now I can stand up and say it's possible," he says.
Now that scepticism has turned to pride as he becomes the first Ghanaian to qualify for the Winter Olympics.
"I think now people are going to sit up and say, OK, well he's done it this time, he's qualified and definitely we are going to see the Ghanaian flag in Vancouver."