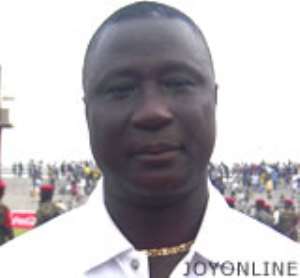 Listen to Bashir Hayford in the attached audio.
Coach Bashir Hayford of Premier League debutantes, Kessben FC, is out of danger and hospital after his Audi saloon car in which he was traveling to Sunyani summersaulted several times.
He spoke to Joy News a while ago and explained that he had attempted to avoid hitting a boy who suddenly jumped in front of his car, and ended up rolling off the road and damaging his car beyond repairs.
Luckily, he said, he escaped with minor lacerations and was helped by bystanders who took him to the regional hospital in Sunyani where his team is scheduled to honour a league game against Bechem Chelsea today.
The 11th Week league match was rained off on Wednesday at the Sunyani Coronation Park.
Kessben led by a lone goal scored by Jordan Owusu Mintah before the match was called off.
Hayford hopes to be on the bench for the game.
Earlier reports had suggested he was in critical condition.