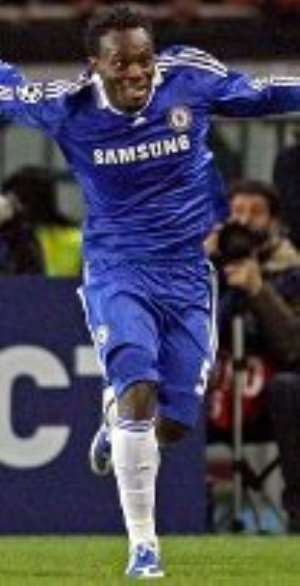 ESSIEN CELEBRATES GOAL Chelsea manager Guus Hiddink has praised Michael Essien who capped a fine comeback by scoring one of the two important goals that sealed qualification to the last four in last night's Uefa Champions League.
 
The Dutchman recalled Essien into the first team after making his return for the reserves side last Monday and handed him another match at Coventry City in the FA Cup over the weekend.
The Blues went into the return leg with a one-goal advantage but that was soon wiped out by Vincenzo Iaquinta's 19th-minute strike.
Chelsea snatched the equalizer in first-half stoppage time after Frank Lampard's shot came down off the underside of the bar for Michael Essien to bundle home.
Hiddink believes the box-to-box centre man is still off his normal style of play.
''He is fit, although not game fit for 90 minutes on this high pace, top level. But we have chosen to bring him, because when you have to bring him later on then probably we are in a very negative scenario." Hiddink said at the press conference.
''I wanted to be proactive to bring him because his contribution is good, not just his goal but for the team is huge.
''Then we watched him carefully until the fuel ran out in the tank, and then Belletti, who is a very clever player and a very good assist for Didier,'' he added
''It was good to see Essien coming back and by playing these games he is getting the best practice to get in shape for 90 minutes.''
For more Ghana football news visit www.ghanasoccernet.com