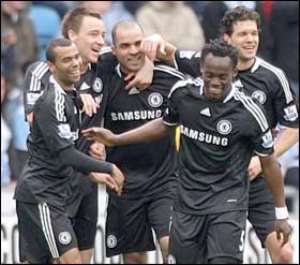 Alex is mobbed by his team-mates Ghana international Michael Essien enjoyed 30 minutes of action in his Chelsea first team return after a six-month lay-off.
He helped his club to a 2-0 victory at Coventry City in the FA Cup quarter-final on Saturday.
The midfielder replaced John Obi Mikel after 64 minutes and was greeted with huge applause from the 50,000 Chelsea fans that travelled with the team.
Chelsea manager Guus Hiddink was pleased with yet another performance from the Bison after a goodish display for the reserves last Monday.
"Michael did very good job after his very heavy injury. He is fit but there is a difference to be game fit. I have time to think if we should start with him (on Tuesday) and see how he reacts to today," Hiddink said.
Essien has got two days to convince his Dutch trainer of his readiness to play in Champions League round of 16 second-leg tie at Juventus. Chelsea won the first leg a fortnight ago 1-0 at Stamford Bridge.