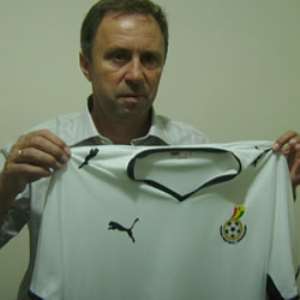 Ghana will start as favourites to win the first ever African Nations Championship when they play DR Congo in Sunday's final in the Ivory Coast.
The final in Abidjan is a repeat of last Sunday's Group B game which Ghana easily won 3-0.
Ghana needed to win that game to secure a place in the semi-finals and responded with goals from Charles Taylor and captain Edmund Owusu-Ansah and striker Yaw Antwi.
Owusu-Ansah says that the win was down to the coach Milovan Rajevac.
"We played strictly according to the instructions our coach gave us and this disorganised the Congolese," he explained.
"I confess that in our previous group matches against Zimbabwe and Libya we did not play according to the plans outlined by the coach and that is why we had to settle for draws."
DR Congo coach and former star Muntumbile Santos says that his team have learnt from the loss.
"My team are aware of the reasons why we lost to Ghana and they have promised me that this is one will be do or die for them," he told BBC Sport.
"It will be a very tough game for both sides as all the players both from Ghana and Congo are very tired.
"With all the matches and travelling all players are tired.
"The side which is mentally strong will win the game."
Fatigue could be a factor for Ghana after their semi-final with Senegal went to extra-time before eventually winning 7-6 on penalties, they then travelled from Bouake to Abidjan on Thursday.
DR Congo on the other hand have been in Abidjan since Monday and won their semi-final 2-1 against Zambia in normal time.