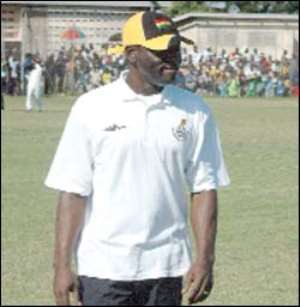 David Duncan DAVID Duncan was billed to officially start work as the head coach of struggling Ashantigold FC on Tuesday.
His appointment comes after the recent annulment of Fortia Company Limited's contract as managers of the miners.
A source who divulged the information to DAILY GUIDE SPORTS could not readily disclose the contractual terms between Ashgold and Duncan but was quick to state that the coach would be at the helm of affairs, at least for this season.
In related development, Mr. Kudjo Fianoo has also taken over as the Chief Executive Officer of Ashgold, a post he held at the club until he was axed at the beginning of the season.
The two left Ashgold under bizarre circumstances but have decided to return to a club that a few years ago was a force to reckon with in Ghana. While Duncan left for Free States in South Africa, Fianoo resigned to nowhere.
But they have made a come back promising to turn the fortunes of the Obuasi club around. They are both noted for their hard talk and mind games in football and are expected to bring relief to the struggling club.
The Interim Management Committee, in a statement said the club last week appointed the two to steer the affairs of AshGold.
From I.F. Joe Awuah Jnr., Kumasi