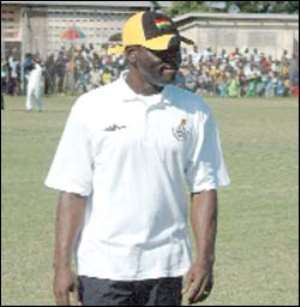 David Duncan Kudjoe Fianoo and Coach David Duncan are now back at the helm of affairs at Ashgold as Chief Executive Officer and head coach respectively.  
The two left Ashgold under bizarre circumstances but have decided to return to a club that a few years ago was a force to reckon with in Ghana. While Duncan left for Free States in South Africa, Fianoo resigned to nowhere.
But they have made a come back promising to turn the fortunes of the Obuasi club around. They are both noted for their hard talk and mind games in football and are expected to bring relief to the struggling club.
The Interim Management Committee, in a statement said the club last week appointed the two to steer the affairs of AshGold.
According to the statement, Mr. Fianoo has been associated with AshGold Football Club since October 2005, when he was appointed the acting Chief Executive Officer and later confirmed in that position. Furthermore Mr. Fianoo is an experienced football administrator.
Ashgold are currently languishing at the bottom of the 16-club Glo Premier League with a paltry seven points from 10 matches.
By Charles Nixon Yeboah