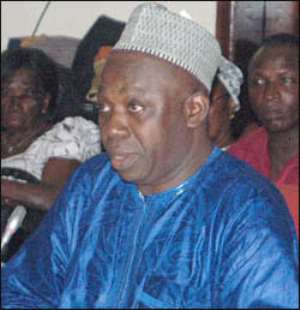 …Lee Ocran or Spio to be considered
Barely a week after taking office, the Foreign Affairs Minister, Alhaji Mohammed Mumuni might be the second scape-goat to be axed from the President team of ministers after the saga of Moses Asaga.
The Ghanaian Journal is highly informed from the Castle that President Mills had a crash meeting with top members of his government and some party faithful on Friday night and made known his intentions on Mumuni. According to our source the President was just following proceedings and might sack him after further consultations.
The source said senior members of the government and from the party were worried of how Mumuni was handling the issue with the media. "It's a shame he has continuously grants interviews on Joy Fm, knowing how dicey the case was. I expect him to keep quite and allow his lawyers to respond but rather he answers media calls." A source said.
Meanwhile, names were mentioned within the meeting as possible replacement. Our source said the President might consider the defeated Jomoro Member of Parliament, Mr. Lee Ocran or Spio Garbrah. Our source was not positive on the choice giving reasons that President can later decide on other choices as he did on the case of the Deputy Ministers of Information. "The two Deputies were not what we knew at all, the President decided on the two on the last hour."
Mr. Okudjeto and Mr. Agyenim Boateng were selected because the President wants to court media guys to support government agenda as done by the NPP, with the Kweku Baako, Egbert Faibille and others, he hinted.
Alhaji Mohammed Mumuni, during the week lost a defamation suit which he filed against the Daily Guide newspaper for a publication which he said imputed improper conduct against him.
The issue was a source of controversy during the minister's vetting by the Appointments Committee of Parliament, culminating in a walk-out by the Minority during the vetting.
Alhaji Mumuni is said to have disbursed unaccountable amounts of money to NVTI when he was the Minister of State responsible for the Ministry of Employment and Social Welfare
Counsel for Alhaji Mumuni argued in court that the newspaper defamed his client in publishing the report.
But the court on Friday ruled that the paper was justified in publishing the report and awarded a cost of GH¢4,000 against Alhaji Mumuni.
The court also held that Alhaji Mumuni had also violated certain important financial regulations and had failed to attach the budget "properly" to the application for the release of the funds in question.
He had also failed to seek parliamentary approval for the monies in question.
But Alhaji Mumuni who has described the court's verdict as "an absolute surprise," has served notice he would appeal the ruling.