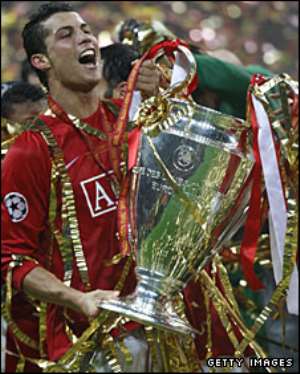 Cristiano Ronaldo says he would like to visit South Africa one day.
Well in just 468 days he could well get his wish should Portugal qualify for the Fifa World Cup in 2010.
The Manchester United and Portugal star was talking to Kick Off editor Neil Greig at Old Trafford, Manchester during the launch of Nike's Mercurial Vapor Superfly boot.
Asked whether he had been to Mzansi and what he knew about the country, the winger said: "Last season Manchester United went there and the lads say it is an unbelievable place to go. I hope to go there one day too."
Speaking right at the end of what was an interesting 40 minute press conference, Ronaldo looked more comfortable and relaxed than when he first walked in.
Facing around 100 media people from all over the globe was probably just as nerve wracking for him than it would be for anyone, highlighting that the superstar is just human after all.
But by now Ronaldo was smiling, joking and was visibly interested in getting his thoughts across about South Africa.
"I know quite a few parts of the world, but not South Africa. I wish to go there one day," he says.
And Ronaldo will identify with the majority of South Africa's children, having also spent a large part of his youth playing street football in Madeira, Portugal.
His message to South African kids who love to express themselves with skills learnt on the street, but also desire to reach the highest level like him, is a simple one.
"I started to play sometimes in Madeira in the street. The kids there still love to play football and all would love to be professional footballers one day.
"What the kids (in South Africa) have to do is believe in themselves and try all the time. Everyone has an opportunity and if someone catches the opportunities it is very good. But believe is the best word."