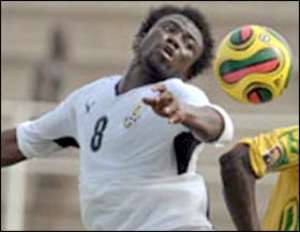 Abdul Rahim Ayew The Black Stars of Ghana will continue their quest for glory in the African Nations Championship, slugging it out with Libya today in Bouake, Cote D'Ivore.
  The Stars will be keen to inflict a second defeat on the Libyans, to atone for their first match draw against Zimbabwe.
Milovan Rajevac was able to see the positive side of what many believe was a bad opener for the Black Stars.
"This is a good result for my team. Their character was encouraging as they came from two goals behind," Rajevac said after the match.
"But I was not impressed with my team's performance. The players know what is ahead; I expect more in our next game," he added.
Whilst happy with scoring a point from their opening match, Black Stars skipper, Edmund Owusu-Ansah, blamed the poor performance on his side's inability to follow the coach's game plan.
"We didn't play to our coach's instructions, and it really affected us," a disappointed Owusu-Ansah told reporters. By Kate West