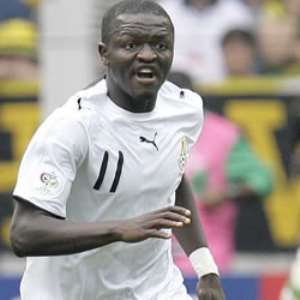 Sulley Muntari has upped the stakes ahead of the Inter Milan/Manchester United clash on Tuesday's European Champions League knockout game by claiming Jose Mourinho is a better manager that Sir Alex Ferguson.
The Ghanaian midfield enforcer has become one of Mourinho 's key men since switching camp from Portsmouth to Inter and he is convinced he can help his current side knock out the reigning European Champions in a manner similar to the way his goals knocked United out of last year's FA Cup in England.
Muntari's belief in the ability of Inter to get the better of United stems not just from the quality of players available to Inter but their manager too.
"Everyone knows Ferguson is one of the best coaches around with the titles he has won in the Champions League and the English Premier League but Mourinho is from a different planet. He is amazing. I don't think there is any manager on earth like him."
Muntari claims his self-belief has grown so much under Mourinho that he can make more "daring moves" than he used to.
Muntari reckons the Inter/United game will be exciting and difficult especially as the English side are the reigning champions.
"I think we are the best in Europe at the moment," he said. "Our sole aim is to get to the final of the Champions League and win the trophy. Winning the trophy means we must beat United and I know we will beat United and win the trophy."