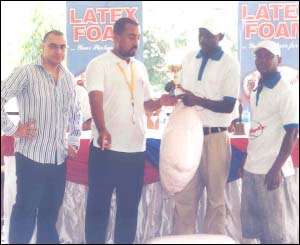 Waheed Hage presenting the trophy Edmund Agyekum and Betty Richards won the two-day 'Kumasi Masters' of the Royal Golf Club which ended at the Royal Golf Course on Sunday.
While Agyekum returned 142 net over the 36-hole two-day event for the men's division, Betty made it with a count-back net score of 150 over Nelly Hage while M.U. Oppong finished third with one stroke behind Hage.
Peter Korsah 149 net and Ebenezer Asabere 152 net took the 2nd and 3rd positions behind Agyekum in the men's main encounter.
In the support version of the competition played on the second day of the Latex Foam-sponsored special programme, S. Badu Danso took the first prize in the men's action with a seven under par 65 net beating M. Osei Bioh 69 net and footballer-turned-golfer, Tony Yeboah who lost to Bioh on count-back.
M. Kronborg hit a one over par 73 net to beat Eno Ofori Atta on count back with A. Darko taking the third spot with a huge 81 net.
The Kumasi Masters is one of the innovative programmes reintroduced by the Royal Golf Club to keep club members busy.
In a prize presentation brief, the new captain of the club, John Owusu thanked management of Latex Foam, Kumasi, for honouring their promise to assist the Royal Golf Club with such sponsoring, saying: "We need such gestures from industrialists, financial and corporate organizations to take the club higher"