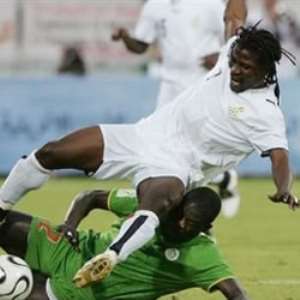 Laryea Kingston has expressed misgivings over suggestions that he is not committed to Ghana.
Reports in the local press this week stated that the Hearts midfielder could be dropped from the national squad for the upcoming 2010 World Cup qualifiers.
The reports accused the player of being egotistical and not willing to give his utmost for the Black Stars' cause.
Also, it claimed that Ghana coach Milovan Rajevac had grown tired with Kingston's disruptive attitude.
But Kingston, unhappy with the negative publications linked to him says he remains dedicated to helping Ghana be as successful as possible.
"These are just rumours," he told skysports.com.
"I love playing for my country and I have made a lot of sacrifices to play for them.
"I always give my best for my people, I am not a bottler.
"Whoever has a problem with me should tell me straight. Until then I am available for the Black Stars."