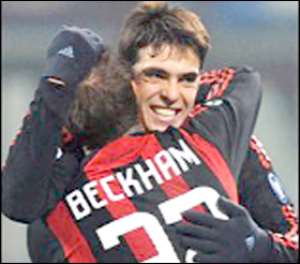 Kaka with David Beckham AC Milan star Kaka has called for the Los Angeles Galaxy to allow David Beckham his desired move to Italy.
Beckham, 33, is eager to make his loan deal with Milan a permanent switch, but the MLS side are determined to see him return to California next month.
Kaka says Beckham's form for the San Siro side has made him indispensible.
"Maybe it was a marketing move at first, but today the truth is that he is fundamental," the playmaker told Brazilian television.
"I wish Milan can reach a deal to acquire him permanently because he is a player who can help us now and in the coming seasons.
"He is a player that in the last few games was very decisive, with passes and goals."
Ex-England skipper Beckham could find tomorrow whether he has a future at Milan, according to the Italian club's chief executive Adriano Galliani.
It was gathered that AC Milan representatives will fly to the United States this week for further negotiations.
And Galaxy coach Bruce Arena admitted he is expecting talks between the two parties in the coming days.
He said: "Obviously, I would suspect from the comments I've heard from David that there would be some discussions. But I have nothing confirmed at this point."
The former Manchester United and Real Madrid midfielder wants to stay at Milan beyond his loan period, which ends on 9 March.
But parent club LA Galaxy want him to return to the United States and Milan have already missed last Friday's deadline that was set by the MLS.
"There is still a bit of distance but Friday could be the decisive day for Beckham," said Galliani.
"The wish of the player is to stay, we will see how the situation evolves."
The Los Angeles club said they have already rejected a £5m offer from the Italian side, with their valuation believed to be around the £10m mark.
Beckham has impressed Milan during his two-month loan period, scoring twice and helping the side move up to third in the table.
His performances also led to him being recalled to the England squad for the friendly against Spain last week. 
BBC