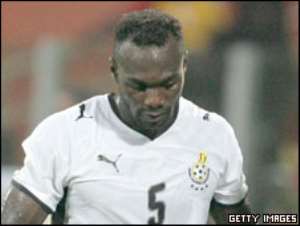 Lyon coach Claude Puel has blamed himself for the dismissal of Ghanaian defender John Mensah during the French champions' 3-1 win over Le Havre.
A number of Lyon's black players were abused but Mensah was most badly affected, seeing red after picking up two second-half yellow cards.
"It's my fault - I should have taken him off beforehand," Puel explained.
French police have arrested a Le Havre fan for making racist insults at Mensah.
"John was shocked: he heard some scandalous words," Puel continued.
"I should perhaps have withdrawn him earlier - we tried to keep him on the pitch as I thought he had got over it."
Mensah was sent off for a second bookable offence 20 minutes from time as Lyon kept up the pace in the French league, which they lead by four points from Paris St Germain.
And not only his coach but also Mensah's club president, Michel Aulas, had sympathy for the abused Ghanaian.
"Right from the warm-up, Le Havre fans made racist insults towards John Mensah but also Kader Keita, Frederic Piquionne and Karim Benzema," Aulas explained.
"John took it very badly. It went on throughout the game and ensured he had a rebellious attitude.
"Doubtless we as a club made a mistake in not passing on to the match delegates and the referee what was going on.
"We did make a number of stadium announcements," said Aulas, who described the abuse as 'monkey noises.'
"We saw John was in great psychological difficulty after he was dismissed and that's why I left the stand to reason with him - not as a mark of disrespect to Le Havre."
While Mensah badly suffered as a result of the abuse, Ivory Coast's Abdul Kader Keita gained his revenge when scoring Lyon's second goal.
Last season, 14 football followers were arrested for abuse-related offences at French league games according to official figures.
In several cases, those responsible were handed jail terms of several months.