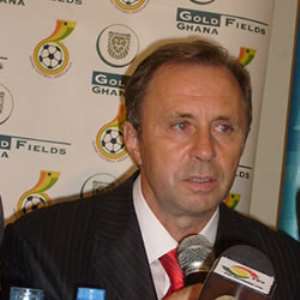 Milovan Rajevac declared he wanted to see signs of a team that was ready for the resumption of the 2010 World Cup qualifiers in March and in the end discovered that there are things that he needs to toughen up before the road to South Africa resumes.
Against Egypt, that has been the best national team on the continent for the last two years, Ghana held their own well on Wednesday but Rajevac and his players sit down to study the fine details they will realise with a bit more work, a second straight World Cup is more than possible.
First the positives. Without Michael Essien in midfield, Laryea Kingston played in a manner to suggest there will be times where his energy and creativity will be better utilised in the middle of the park and not on the right. It gives Rajevac in that sense more options.
Nana Kwesi Asare who also made his second appearance at left back played in a manner that should make the inactive Harrison Afful fear for his continuous stay as left back. The fact that the Belgium based left back is naturally left footed may in the end work to his advantage.
And despite being club less for so long Stephen Appiah continues to prove he is quality. You wonder why he still carries that clubless tag.
Ahead of the game, there was a lot of talk about how games like this are important for Rajevac to blood new talent and how it could provide him with a lesson or two about his options. In the end it was a reaffirmation of the many things we know about that Black Stars, key among them that the old guard are still Ghana's best available troops if the side is to march on to another World Cup appearance.
John Paintsil was flawless at right back while Richard Kingson pulled off some remarkable saves.
But there were also signs that some of the old guard were losing it. Muntari's quality is never in doubt but he seemed a bit too casual in Cairo.
Junior Agogo laboured without doing much in another performance that will give the pro-Asamoah Gyan camp a lot more voice and accelerate the growing calls for African Youth Championships top scorer Ransford Osei to be given his chance at the highest level.
The player who did his reputation the most harm however was Eric Addo. He has abundant experience but the defending from him was comical at some point. He has lost the pace and often picked the wrong option. With John Mensah so often injury prone, another central defender of good class is needed. And that might just be the elegant Jonathan Mensah.
So with another friendly out of the way the lessons seem simple. The central defence needs to be worked on, midfield continues to work fine. Biggest lesson of all: Agogo needs competition. He looks so badly off colour now.