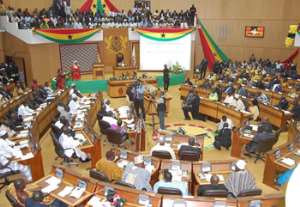 Members of Parliament are threatening to sabotage bills from the executive arm of government following the review of their ex-gratia.
President Mills on the back of a huge public uproar on Wednesday slashed amounts payable to ex-MPs and government functionaries.
He also indicated a committee on emoluments would be set up to review the entitlements proposed by the Chinery-Hesse Committee.
But the president's action has come under heavy criticisms from some beneficiaries and marks the beginning of frosty relationship between the legislature and the executive.
Speaking on anonymity to Joy News' Parliamentary Correspondent Araba Coomson, some MPs insist the president's decision was arbitrary.
They argued a lot more consultation should have been done by the president.
They hinted major bills from government would not be approved if the president continued the way he has started.
Already, some affected MPs have threatened to seek legal redress if the president does not reverse the decision.
They argued the president decision to review emoluments of MPs and government officials cannot take retroactive effect.
With some MPs alleged to have already withdrawn their entitlements, the president's action can only become all the more complicated.
Story by Nathan Gadugah