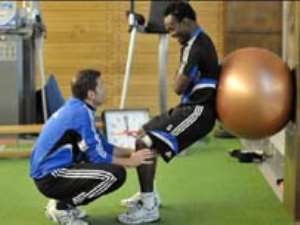 Michael Essien Information gathered by DAILY GUIDE SPORTS indicates that Ghana International, Michael Essien yesterday started training after being out of action for several months due to injury.
  Essien's absence from the field had seriously affected his club Chelsea FC, who fired their head coach Phil Scolari two days ago due to the team's poor showings recently.
The Ghanaian sustained a serious knee injury while playing for the Black Stars in September and is expected to return to full action in the next three weeks.
According to Chelsea's website, club officials received the news with joy, mindful of the fact that the midfielder is irreplaceable.
Since rupturing his anterior cruciate ligament in the early part of the season, Essien has been working hard on the lonely road to recovery, mainly with rehabilitation physio Thierry Laurent.
Indeed yesterday offered the first opportunity for Essien to join his teammates for training, having recently undertaken some physical ball work.
The website noted: "It is standard at this stage of rehab for a player to begin exercising with other players, and Essien has not yet returned to full training, the aim for which has always been at the end of February, with a view to getting him playing again by the middle to end of March."
During the session yesterday, led by Ray Wilkins, there were a series of small-sided games played with high intensity.
In a related development, Chelsea have announced that Guus Hiddink will take over as temporary coach until the end of the season.
The Premier League club have also revealed that the 62-year-old Dutchman will meet the players later this week.
"The club would like to take this opportunity to thank the Russian Football Union for their understanding and cooperation," said a statement.
Hiddink, who will continue to coach the Russian national side, replaces Luiz Felipe Scolari, who was axed on Monday.
The former PSV Eindhoven and Real Madrid coach is currently in Turkey with the Russia squad and is likely to be a spectator at Chelsea's FA Cup fifth round tie at Watford on Saturday, with the Premier League clash at Aston Villa on 21 February expected to be his first in charge.
By Mohammed Muniru Kassim