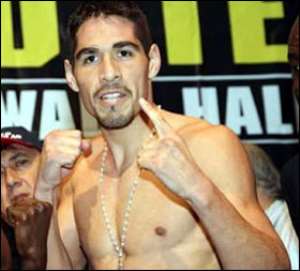 Antonio Margarito Former WBA welterweight champion Antonio Margarito has had his licence revoked for one year by the California State Athletic Commission.
Margarito and trainer Javier Capetillo have been banned for putting a plaster-like substance under Margarito's hand wraps for his fight with Shane Mosley.
The pads, confiscated last week, are still being tested by the commission.
Mexican Margarito lost his WBA welterweight title to Mosley in January via a ninth-round technical knock-out.
The commission voted 7-0 to revoke both Margarito and Capetillo's licences.