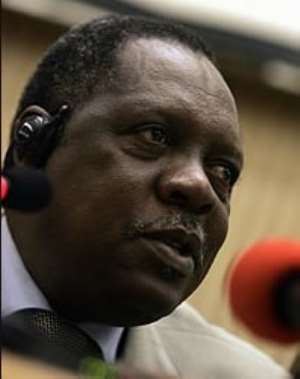 CAF president Issa Hayatou was on Wednesday re-elected to head the continental soccer governing body for a four-year term.
The incumbent's position was confirmed during the 31st CAF Ordinary General Assembly in Lagos, Nigeria, and his tenure will last till 2013.
Hayatou, who has served as president of CAF since 1988, was unanimously unopposed in his bid to remain at the helm of the Confederation, with his impressive contribution to the development of the game being the measuring rule.
In an emotion-filled acceptance speech, the Cameroonian thanked the delegates for giving him another opportunity to serve African football.
"I also thank my wife and my family who have supported me positively throughout my position."
Hayatou, who automatically serves as Fifa Vice-President by virtue of being CAF president, pledged his unflinching support to help raise African football to an enviable height and was presented with a pennant by Uefa president Michel Platini.
Fifa President Sepp Blatter and other delegates also congratulated Hayatou on his feat.
There were also elections for CAF Executive Committee members and the African representative on the Fifa Executive Committee.
Amadou Diakite (Mali) and Amos Adamu (Nigeria) were elected unopposed to represent West Zone A and Zone B respectively in the CAF Executive Committee.
Algerian Mohamed Raouraoua was elected the Northern Zone's representative following the withdrawal of Jamal El-Jaafari, and so was Suketu Patel of Seychelles on the Southern Zone's ticket after Kalusha Bwalya also discontinued interest.
For the Central Zone, Adoum Djibrine of Chad maintained his seat by defeating Leon Ababe of Gabon. Djibrine pulled 40 votes against Ababe's seven.
Burundi's Lydie Nsekera also failed in her bid to become the first female on the CAF Executive Committee as Madgi Sham El Din of Sudan claimed the Central-East Zone slot. Magdi pulled 43 votes, while Lydie bagged seven in the race following the withdrawal of Hussein Fadoul of Djibouti.
Magdi will replace Moses Baransananiye of Burundi as the Central-East Zone's representative on the CAF Executive Committee.
For the position of Africa's representative on the Fifa Executive Committee, Hani Aboo Rida of Egypt claimed the slot with 43 votes against nine from incumbent Slim Chiboub of Tunisia.
All the elected candidates will serve till 2013.
The general assembly also approved the budget for the year, as well as the account of the period January 7, 2007 to June 30, 2008.
In his opening address, Hayatou tasked South Africa, Nigeria and Egypt, respective hosts of the Fifa Confederations Cup, Fifa Under-17 World and Fifa Under-20 World Cup this year, to organise a tourney that will erase doubts on Africa's ability to stage a successful World Cup in 2010.
Blatter also expressed optimism in Africa's abilities to stage successful tourney in this year's competitions to serve as a prelude to the World Cup.