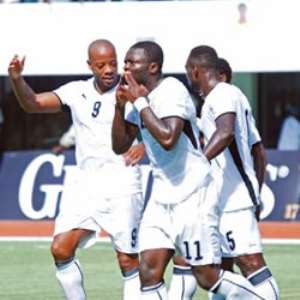 Ghana will be aiming to neutralise the attacking threat of the African champions in Wednesday's friendly against Egypt as Black Stars coach, Milovan Rajevac seeks a win.
Despite Ghana going into the friendly without some key players ruled out by injuries, coach Rajevac remains confident that they can get a good result in Cairo.
"Results are always important. But if we find some solutions in the team, better benefit for us. That's why we are trying to set up the team for the qualifiers," the Ghana coach said.
The Black Stars will have to stand up to a partisan crowd at the Cairo International Stadium but Rajevac indicated that he wanted to see his side deal with a versatile Egyptian side.
Rajevac was confident about Ghana's chances in Cairo.
"We would have to set up the team and play with one of the best in Africa (Egypt). And we would try to get a good result."
Egypt, the reigning Africa champions, have since their triumph at CAN 2008, recorded some good results in recent times and still possess one of the continent's best attacking threats in Ami Zaki, Mohamed Zidan, Mohamed Barakat and Emad Meteb.
But Black Stars coach remains happy with some of the players called up for the game.
Asamoah Gyan's return to match fitness after a long spell on the sidelines seems bolster Rajevac's striking options.
The game against Egypt would be Gyan's debut under Rajevac and also his first match after a year for Ghana since going out injured during the 2008 Africa Cup of Nations.
"Asamoah was the first choice before his injury, and he must demonstrate that he merits a place in the first team."
"It is always best to have options in attack, which is a sign of a good team," he says.
For Milovan Rajevac, the friendly against Egypt will provide Ghana some challenges before the start of the 2010 World Cup and CAF Nations Cup qualifiers, later in March.