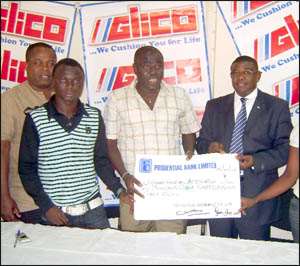 GLICO Cushions Satellites SHOULD THE under-20 team, the Black Satellites conquer the rest of the world and annex the World Cup in Egypt come September 2009, they would receive a whopping GH¢500,000 Personal Insurance Cover as a sponsorship package from Gemini Life Insurance Company (GLICO).
The Assistant General Marketing Manager of GLICO, Emmanuel Edor announced this when the company presented the Black Satellites with GH¢10,000 as a winning bonus last Friday at the Ghana Football Association (GFA) Secretariat in Accra.
It formed part of a surprise package for their outstanding performance recently in Kigali, Rwanda, where they floored their African counterparts to win the 16th edition of the African Youth Championship.
"GLICO in its social responsibility has never abandoned any national team going on international tournament since 1992, which started off with the Black Stars," Mr. Edor emphasised.
Again, Mr. Edor hinted that GLICO is putting together another package for the team's training and preparation towards the World Cup in Egypt.
Moreover, the technical team, led by Coach Sellas Tetteh, was as well presented with GH¢1,000 cash with a personal accident cover totalling GH¢5,000 from now till August 2009.
On his part, head coach of the team, Sellas Tetteh noted that it was a welcoming gesture since the GFA and government alone could not do it all.
He however pleaded that whatever favour is given to the Black Stars should be replicated also to the junior sides.
Mr. Tetteh maintained that even though the Kigali encounter was a stepping stone, the package would motivate the team to deliver in Egypt.
The GFA Vice president, Fred Pappoe also expressed his outfit's gratitude to GLICO, hoping that it would inspire both sportsmen and women in the country to put up their best.
By Nathaniel Y. Yankson