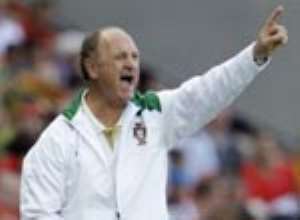 Chelsea have sensationally sacked manager Luiz Felipe Scolari.
The club's website revealed the dramatic move had been made "to maintain a challenge for the trophies we are still competing for".
World Cup winner Scolari had only been in the job since June 2008, when he became Chelsea's third boss in a year.
Chelsea are fourth in the Premier League but remain in the Champions League and FA Cup - with Ray Wilkins in charge until a successor is appointed.
"Luiz Felipe Scolari has been dismissed as manager of Chelsea Football Club with immediate effect," read the statement. "The Chelsea board would like to place on record our gratitude for his time as manager.
"Felipe has brought many positives to the club since he joined and we all feel a sense of sadness that our relationship has ended so soon.
"Unfortunately the results and performances of the team appeared to be deteriorating at a key time in the season.
"In order to maintain a challenge for the trophies we are still competing for we felt the only option was to make the change now.
"The search for a new manager has already started and we hope to have someone in place as soon as possible."
Scolari won the World Cup as manager of his home country, Brazil, in 2002.
He arrived at Chelsea following a six-year spell in charge of Portugal, who he led to the final of Euro 2004 and the semi-finals of the 2006 World Cup.
The 60-year-old made an impressive start but results deteriorated and of his 36 games in charge, 20 were won, five lost and 11 drawn.
Chelsea, who were unbeaten in the league at home for 86 matches until Liverpool's 1-0 win in October 2008, have lost two home league matches and drawn on five occasions this season.
Their record against the so-called big four this season is poor - they drew 1-1 at home with Manchester United and lost 3-0 away, were beaten 2-1 at home by Arsenal, and home and away by Liverpool.
Scolari's men were knocked out of the Carling Cup by Burnley on penalties and travel to Watford in the FA Cup fifth round on Saturday.
The FA Cup tie at Vicarage Road is the start of a vital 11 days for Chelsea which includes a trip to Villa Park for the crucial Premier League clash with Aston Villa on 21 February, followed by the visit of Juventus to Stamford Bridge in the Champions League four days later.
"Scolari's popularity has been plummeting in the past few weeks," said former Chelsea winger Pat Nevin. "The question is, who is going to be able to do it with a squad that is clearly not strong enough?
"This is a club that a year ago was one of the biggest in the world and quite clearly it seems to have gone downhill quite quickly.
"I hope for Chelsea's sake they don't have a knee-jerk reaction and dive for the first name that comes into their mind. They need to give it an awful lot of thought and maybe consider someone that isn't the biggest name in the world."
Chelsea owner Roman Abramovich has now overseen the departure of four managers since his arrival in 2003.
Claudio Ranieri was sacked in 2004, Jose Mourinho in September 2007 and Grant in May 2008.
A banner unfurled during Chelsea's 0-0 draw with Hull at Stamford Bridge on Saturday called for the return of former Blues favourites Gianfranco Zola, currently in charge at West Ham, and Roberto Di Matteo, the MK Dons boss.
Chelsea were booed off the field at the final whistle and sections of the crowd could be heard chanting "you don't know what you're doing" at Scolari.
A senior West Ham boardroom member told BBC Sport the club has had no contact from Chelsea regarding Zola or his assistant, former Chelsea coach Steve Clarke.
Former Chelsea manager John Hollins told BBC Radio 5 Live: "It's not like international management where you choose a team every one or two months and can choose from players across the country.
"The Premier League is not leisurely and I don't think he felt comfortable week in, week out picking teams and talking to people.
"They might have done it just in time to resurrect their season. If you are going to do something, it was best to do it now."
Well known Chelsea fan and former 606 presenter David Mellor said: "I'm shocked but not necessarily surprised. Because of the way Chelsea are run, they can turn any problem into a disaster. Where is the point in dismissing a man with his record?
"I cannot see the point in getting rid of him, it just leaves a vacuum in the dressing room at the vital moment. The idea that Chelsea's problems begin and end with Scolari is nonsense."
Ex-Chelsea winger Clive Walker added it would be a tricky job for whoever is selected to lead Chelsea forward.
"Results count," he said. "When you at one of the big teams and spend money then trophies are expected and the team are currently going through a really bad patch.
"It's going to be a tough job because they aren't playing well despite the talent in the squad. They also have an ageing squad and I'm not sure that with the credit crunch and everything whether there is any money there to spend."