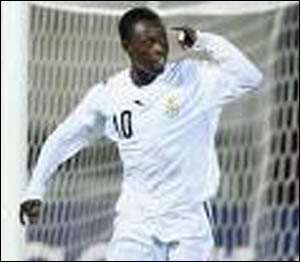 Ransford Osei, black satellites BLACK SATELLITES' sensational striker, Ransford Osei has been confirmed Gemini Life Insurance Company (GLICO's) Ambassador for 2009.
His adoption by GLICO as an ambassador falls in line with his sterling performance at the just-ended 16th Africa Youth Championship in Kigali, Rwanda.
Osei, who scored seven goals, the highest ever in the tourney, was adjudged goal-king and the overall best player of the competition.
While on this contract, he would enjoy a monthly allowance, which was not immediately disclosed and products of the company.
According to Emmanuel Edor, Assistant General Marketing Manager of GLICO, Ransford Osei would continue to have access and usage of the company's products at all times.
With the assistance of the General Secretary of the Ghana Football Association (GFA), he would pay visits to GLICO's offices throughout the country and socialise with staff.
Again, the ambassadorial package includes free medical treatment and appearances at all GLICO's social gatherings, free vehicular licensing during the period and a GH¢2,000 personal accident cover.
For Mr. Edor, football is a branch of sports which attracts tourism and serves as a national unifier; hence it should continue to enjoy a place of pride in the bosom of policy makers. 
By Nathaniel Y. Yankson