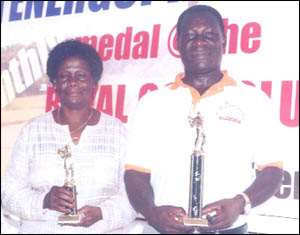 Apau-Oppong and C.Y. Nyarko Charles Apau-Oppong and C.Y. Nyarko won the Royal Golf Club's January Monthly Medal Golf competition held at the club's course in Kumasi at the weekend.
Sponsored by Energoprojeckt, a multinational construction company in Ghana, Apau-Oppong pulled out of a three-man tie to beat B.K. Baiden and Kwasi Appiah, all three recording 71 net apiece.
C.Y. Nyarko won with best score of the day, a huge nine under par 63 net, beating M. Kronborg who finished the 18-hole play with a 69 net score in the ladies action.
Kojo Banni took the first cash prize in the professional event with a 72 gross score beating Kwame Korsah 73 gross and James Larry 76 gross respectively.
Club captain John Owusu in his maiden assignment thanked members for their turnout, expressing the hope that this will improve with time and keep the club and members busy and ready throughout the year.
He was also full of praise for the sponsor, Energoprojekt who have kept faith with the club with that beautiful package.
On their part, members of management of the multinational construction company said they were indeed highly honoured to be associated with a renowned club as the Royal Golf Club with its highly disciplined and friendly people.
He said this maiden sponsorship was also an affirmation of a promise made to the club at the Asantehene Open, to take up the club's monthly events for 2009.