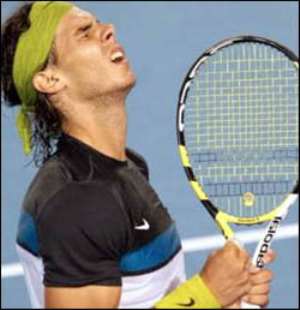 Rafael Nadal Rafael Nadal produced a display of incredible defiance to beat Roger Federer 7-5 3-6 7-6 (7-3) 3-6 6-2 and win his first Australian Open title.
The Spaniard, 22, recovered from his marathon semi-final to ruin Federer's attempt to equal Pete Sampras's record of 14 Grand Slam titles.
Nadal saved 13 of 19 break points as he refused to yield in a stunning match.
The world number one has now won six Grand Slam titles - including four at the French Open and one at Wimbledon.
He took his record against Federer to 13 wins in 19 matches, and five in seven Grand Slam finals between the pair, in a worthy successor to their last meeting at Wimbledon in July.
Nadal won that match in five sets and, despite playing just two days after winning the longest match in Australian Open history in his five-hour semi-final win over Fernando Verdasco, the top seed prevailed again in another sensational encounter.
With so much at stake it was still a surprise to see Federer, 27, make a desperately nervous start, dropping serve immediately in a woeful game of three wild errors and a double fault.
Nadal had the chance to build an early lead but was pegged back straight away in a 10-minute game, Federer converting his third break point with a smooth forehand winner down the line.
Two match points arrived when Federer, on serve, hooked a regulation forehand wide but two nervous Nadal errors kept the contest alive.
The Spaniard responded with a blistering cross-court backhand winner onto the line that Federer chose not to challenge, and when the Swiss went long with a forehand a breathtaking match was finally over after four hours 23 minutes.
A tearful Federer struggled to make his runner-up speech afterwards, admitting: "I've felt better. Maybe I'll try later. God, it's killing me."
Nadal, the first Spaniard to win the Australian title, accepted the trophy from Rod Laver and said: "Roger, I know exactly how you feel.
"Just remember you're a great champion and you're one of the best in history and for sure you're going to match Sampras. To receive this trophy from Rod Laver is a dream for me."  BBC