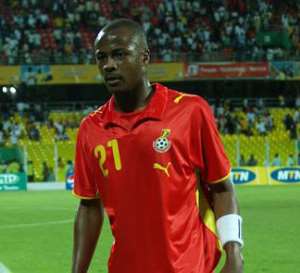 Black Satellites captain Andre Dede Ayew has paid an emotional visit to an orphanage in Rwanda housing kids scarred by the genocide in the country.
About 800,000 Tutsis and moderate Hutus were killed by Hutu militias after the assassination of an ethnic Hutu leader in 1994.
The reverberations of the genocide linger on in Kigali as there are many displaced orphans, moving the Ghana captain to offer a helping hand.
Ayew visited the Gisimba Orphanage to donate foot items worth US$2,000 and also interacted with the kids to encourage them for the future.
The son of legend Abedi Pele took time off from his Africa Youth Championship duties on Friday to visit the orphanage but broke down in tears while interacting with some of the kids at the orphanage.
"Even though we have been here fighting for our country, I am also aware of the difficult things Rwanda has been through especially the kids," Ayew told Ghanasoccernet.
"Since this is my first time of being in the country it is only right that we see how the kids are coping and for us to offer our support.
"The stories are very sad and I weep any time I remember the first-hand accounts of people of what happened here in 1994.
"It must not happen again and as footballers who people look up to, we must use our privileged position to educate people and support those affected."
Ayew is the second player from the Ghana team to have visited an orphanage in the country after defender Samuel Inkoom wept uncontrollably at another centre.
The home-based player donated US$100 from his winning bonuses to the orphanage.
Ghana won the Africa Youth Championship on Sunday which was Rwanda's first major hosting of a continental tournament.
For more Ghana football news visit www.ghanasoccernet.com