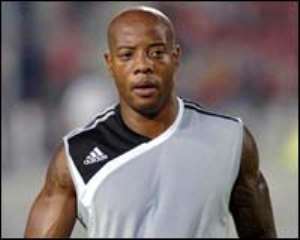 Agogo has been fined US$200,000 Egypt-based international striker Manuel Junior Agogo has appealed to the Ghana Football Association (GFA) to intervene over 'maltreatment' meted out by his club Zamalek.
The 29-year-old has revealed that he has not been paid for several months because he defied the club to play for the Black Stars in their friendly against South Africa in October.
 
An amount of US$ 200,000 has been ducked from his wages, evicted from his house because the club failed to pay the landlord as agreed amid other breaches of his contract with the club.
 
Agogo's problems started on his return from South Africa after the friendly and escalated after the Egyptian FA handed a three-match ban to the player and wants to Ghanaian authorities to help him out of the quagmire.
 
"Junior is pleading with the GFA to entreat their Egyptian counterparts to step into this issues and ensure that the right thing is done," Agogo's agent Ernest Okudzeto told Ghanasoccernet.com.
 
"They tried to prevent him from playing for the Black Stars in South Africa and when he insisted that his country is very important for him they started deducting money from his wages.
 
"Even though the Egypt FA gave him a three-match ban and fined him for an unintended gesture last month, Zamalek also deducted 36-day wage!
 
"All this has happened even though they have not even officially written to tell him this or give him a hearing but we hear all these one-sided reports from the press.
 
"This has left Junior deeply distressed and led to his sit-down strike. But he has resumed training while we seek justice from the Egypt FA for this international player to be treated humanely.
 
"Junior is hoping that the GFA protests to the Egypt FA so that when he goes for national team duties they don't deduct his wages just for playing for his country.
 
"The Black Stars is very important for Junior and the maltreatment must stop."
 
Agogo was signed under former club president Mamdouh Abbas last year but the current Zamalek board has told the striker his agreement under the previous regime is void because of the change in administration.
 
The 29-year-old was beginning to settle in Egypt under the Abbas-led board since his move from English side Nottingham Forest.
 
But he has not had the best of times since the departure of Abbas in an acrimonious power struggle at the club.
For more Ghana football news visit www.ghanasoccernet.com