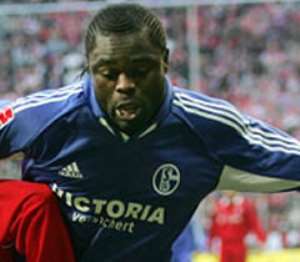 Gerald Asamoah
Ex-Germany striker Gerald Asamoah admits he was hurt by racist taunts after he was shown a red card on Tuesday night playing for Schalke 04 in their 4-1 German Cup win at third division Carl Zeiss Jena.
Asamoah was shown a straight red for a heavy foul on Jena's Rene Eckardt in the 75th minute and walked off the pitch to the sound of monkey cries from a section of the 17,600 strong crowd.
The Ghana-born forward, who won the last of his 43 caps for Germany in 2006, was also the subject of racist taunts during a cup game at second division Hansa Rostock two and a half years ago.
"There were ape noises and again on the way to the bus after the game," Asamoah told sports magazine RevierSport.
"I do not want to make a big deal out of this topic, but it does hurt again and again.
"And you have to expect this sort of thing to happen in the future."
The German Football Federation (DFB) fined Hansa 20,000 euros ($40,000) after the previous incident in 2006 and the club were forced to play a match behind closed doors.
"Unfortunately, these things still happen in east Germany still," said Asamoah.
Referee Deniz Aytekin did not note the racist taunts in his report, but the DFB have said they will look into the matter.
Asamoah's dismissal means he will miss the next German Cup game and draw for the quarter-finals to be played on March 3 will be made on Sunday.